A multifaceted individual with a passion for architecture, business & community development.  Elie was born Ghalboun, and had always a deep connection to his homeland. After completing his education in architecture and over the years, he established a successful career, leaving his mark on various projects both locally and internationally.
However, Elie's aspirations & ambitions did not stop with his professional achievements. Deeply invested in the welfare and progress of his village, understanding the history and culture surrounding Lebanese winemaking, Elie strived to put Ghalboun on Lebanon's wineries map. By investing in vineyards & enlisting the help of wine experts, he created with his brother a foundation for the establishment of a thriving wine industry in Ghalboun.
Simultaneously, Elie's relentless dedication to his community propelled him to the position of Mayor of Ghalboun. Under his leadership, Ghalboun witnessed significant improvements in infrastructure, education, healthcare, and quality of life.
Elie continues to inspire others through his passion for architecture, business & community development.
Founder & General manager
A prominent figure in the hospitality and wine industry, native of Ghalboun had a close bond with his own village. With years of experience, Gaby has played a role in the growth and success of the business, alongside his brother, sons, and nephew.
Gaby's journey in the hospitality industry began with his passion for providing exceptional experiences to guests. Recognizing the potential of Lebanese wine, Gaby embarked on a mission to showcase the rich heritage and craftsmanship in every bottle produced. Through tireless efforts and dedication, he and his family strived to capture the essence of Lebanon's distinct terroir and transmit it into their wines. With a strong focus on quality and authenticity, Gaby worked closely with his team to select the finest grapes and implement traditional winemaking techniques, ensuring that every bottle reflected the true essence of the region.
With a legacy rooted in the love for hospitality and winemaking, Gaby is a true pioneer and a source of inspiration in the industry.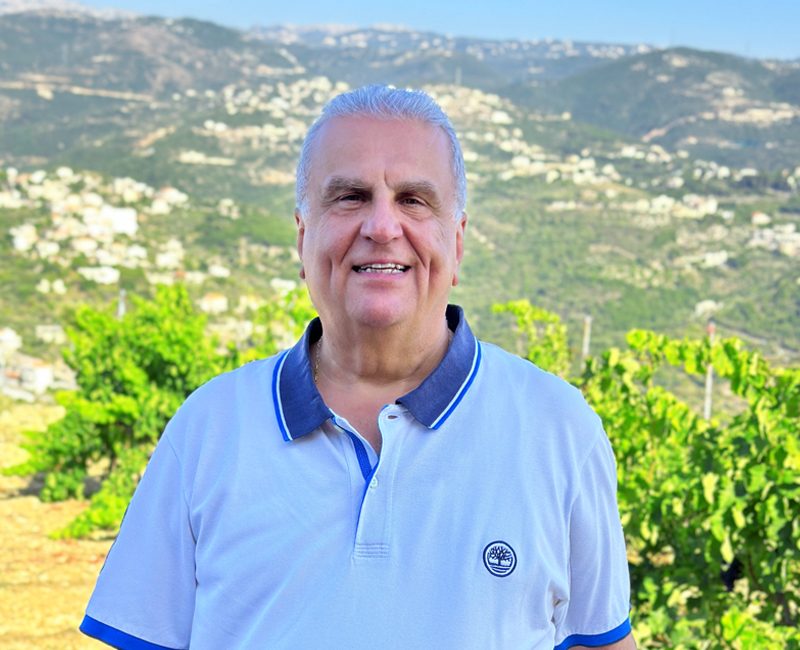 Enologist graduated from supAgro Montpellier and ENITA-Bordeaux in 2007.
Production manager for several wineries in France (between 2007 and 2012); Gigondas, Sancerre, Côtes de Castillon Bordeaux and Sardinia Italy.
From 2012 consultant in Lebanon at many wineries and other estates in grape cultivation and wine equipments.
founder of Viniverde enterprise, vineyard and wineries consultants.
A well-respected global consultant in viticulture and oenology. Based in Bordeaux, she is a researcher for Seguin-Moreau, affiliated with the Institute of Vine and Wine Sciences (I.S.V.V.). Her primary areas of research include: aroma science; reduction during vinification and aging of white wines; and premature aging of aromas in white and red wines.
Additionally, for over 20 years, she worked alongside the legendary winemaker and professor Denis Dubourdieu, renowned for his research on Sauvignon Blanc and advanced winemaking techniques.
Her work has resulted in more than thirty publications in international scientific journals as well as presentations at numerous conferences. She has also contributed to numerous seminal reference publications, including White wines, from marketing to vinification (FRANCE AGRICOLE), Oenology treatises (volumes I and II, translated into English, Spanish, Italian) and The Oxford Companion to Wine (Fourth Edition, Jancis Robinson ed.).
She is also a consulting oenologist for about 70 crus and renowned estates in France, Spain, Italy, Greece, Portugal and South Africa. She teaches diploma level courses at the University of Bordeaux along with white wine aroma training courses for the Bordeaux CIVB.
She graduated from the University of Bordeaux with honors and was the recipient of the Grand Prix of the AMORIM Academy honoring the work of young researchers who have contributed to improving the knowledge and quality of wine.
A talented agricultural engineer currently dedicated to the management of vineyards at Domaine St. Gabriel. Hailing from a small town, Aimée developed a deep passion for nature and agriculture from a young age. This passion led her to pursue a degree in Agricultural Engineering at USEK university. Her educational journey provided her with a strong foundation in agronomy, plant science and environmental preservation making her a well-rounded professional in the field.
Her expertise in vineyard management ranges from soil health and irrigation techniques to pest control and grape quality optimization. Her dedication, combined with her innovative mindset and profound understanding of agricultural sciences make her a true asset to Domaine St. Gabriel.